Ubiquiti Networks UniFi Security Gateway Router (USG) with Gigabit Ethernet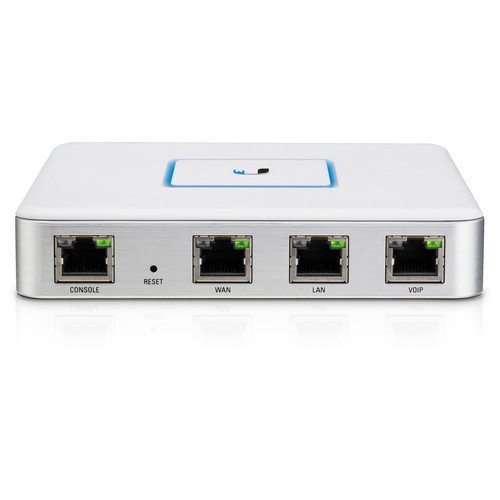 The UniFi Enterprise Gateway Router with Gigabit Ethernet from Ubiquiti Networks is designed to be implemented with compatible UniFi Enterprise Systems to provide routing and security to your local area network. With three Gigabit Ethernet ports and the ability to route up to 1 million packets per second this gateway is a versatile networking tool. Features such as an improved user experience and the ability to obtain an overview of your network allow you to manage nearly every aspect from mapping out subnets to provisioning additional UniFi devices. You can even create LAN & WLAN groups per UniFi device for greater control over large network deployments.
UniFi Security Gateway Enterprise
Unifi USG VPN Site-to-Site VPN Tunnel
Enterprise Gateway Router Gigabit
Advanced Security, Monitoring, and Management
Integrated with UniFi® Controller Software
VPN Server for Secure Communications
A site-to-site VPN secures and encrypts private data communications traveling over the Internet.
Dual-Core 500 MHz Processor
2 GB On-Board Flash Memory
Wall Mountable Design
1 x RJ-45 Serial Console Port
3 x Gigabit Ethernet Ports
1 million packets per second for 64-byte packets
3 Gb/s total line rate for packets 512 bytes or larger
Integrated and managed with UniFi Controller v4.x
Secure off-site management and monitoring
CLI management for advanced users
Silent, fanless operation
Flytec Computers Customer Reviews