PRODUCT SPECIFICATIONS
Model: GOIP-4
Hybertone VoIP GSM Gateway GoIP-4, is a VoIP GSM Gateway for call termination (VoIP to GSM) and origination (GSM to VoIP). It is SIP&H.323 based and compatible with Asterisk, Trixbox, 3CX, SIP Proxy Server, VoipBuster. It can enable to make 4 calls simultaneously from IP phones to GSM networks and GSM networks to IP phone.
Our GoIPs come with all the common network, VoIP, and GSM features and they have been widely tested for compatibility, stability, and reliability. In addition, we've developed our proprietary Remote SIM technology for SIM card management without inserting SIM cards to GoIPs. Together with the SMS Server and SIM Sever, you can now build your own system for voice traffics between VoIP and GSM or a SMS Messaging system based on your application requirements. In addition, each GoIP is equipped with a Remote Control client which enables a secure remote access method for technical support and GoIP management. All of the above features are available at no additional charges.
The concept diagram below shows a simple VoIP network for call center application. It consists of a softswitch/IP PBX and VoIP clients such as an IP phone, a call center operator, and GoIPs. All VoIP clients are configured to register to the softswitch/IP PBX. For the GoIPs, each GSM channel is inserted with a valid SIM card in order to access the GSM network. Both incoming and outgoing calls between the VoIP and GSM/PSTN networks can now be realized.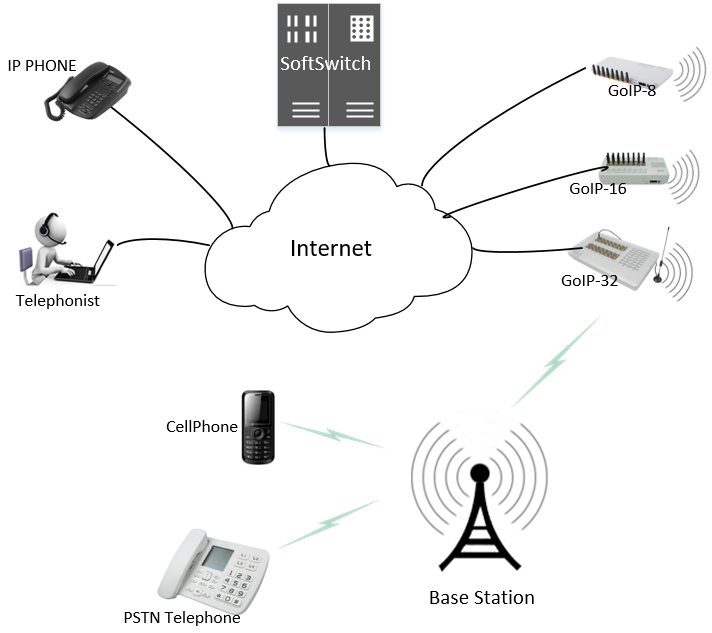 Key Features
Call from VoIP to GSM or GSM to VoIP
Bulk SMS
Auto check balance and recharge
Remote SIM Control
Outbound call from voip
Inbound call from gsm
Remote management
Software Features
VoIP Protocols: SIP2.0
Audio Codecs: g711(alaw/ulaw), g729, g723.1
DTMF format: SIP INFO, RFC2833, Inband
Packet Loss Concealment
Programmable Jitter Buffer: Fixed, Dynamic, Adaptive
Network Connection: DHCP, PPPOE, Static IP
STUN Server
Support English, Chinese
Support Signaling encryption
Support media encryption
Support Media NAT Traversal
Support Remote control
Hardware Features
GSM Channels:4
Power Adapter: DC 12V/2A
CPU: ARM11/700MHz
RAM: 128MB
Flash: 8M
GSM Frequency: 850/900/1800/1900MHz
Max power consumption: 12W
Weight: 0.85KG (Including AC/DC Adapter)
Size: 25cm*14cm*2.5 cm
Operating Temperature: 0 - 45?
Working Humidity: 10% - 90% non condensation
techdescription >
More Information